Tonight Dan took Eli and Adam to a Tigers game, tickets courtesy of his law firm. I drove the kids down to meet Dan after work, and following a quick dinner at American Coney Dog on Lafayette, I dropped the boys off at Comerica Park:
At about 10 pm I was interrupted in the middle of watching
Alias
by a phone call from Dan, saying they were just getting on the freeway to come home. We had been worried the boys wouldn't make it through the whole game, but they did. Dan told me excitedly that tonight was a "no-hitter." "Oh, so nobody scored?" I asked, thinking what a boring game that must have been. No, he explained, the Tigers scored 4 runs. The Milwaukee Brewers, on the other hand, not only failed to score, but they didn't make a single hit. Interesting (not really).
Then Eli got on the phone and told me that tonight was a no-hitter. He sounded very excited. After we hung up, I went back downstairs. When they arrived an hour later, Dan was still talking about the no-hitter, trying to explain to me how rare it is. To emphasize the historic nature of this event, he told me to get on
ESPN.com
to see for myself. There it was, "Justin says...No-No," a story all about tonight's game, complete with picture of Detroit's pitcher, Justin Verlander, getting a big hug: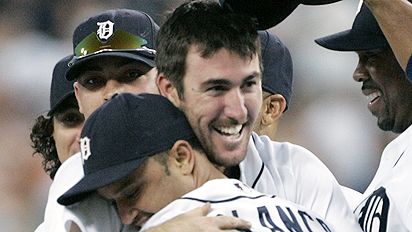 I went to
The New York Times
and there it was again, "Detroit's Verlander Pitches No-Hitter," with a picture of Justin Verlander throwing the ball:
Apparently, this is actually a big deal.
So, for our part in history, here is the picture Dan took of Eli & Adam after the game. On the scoreboard behind them, if you have bionic eyes (and you know what it says), you can read the following: "Tonight's No-Hitter by Justin Verlander is the first by a Tigers pitcher since Jack Morris on April 7, 1984 in Chicago."
Well, there it is. We're practically famous. Go Tigers.